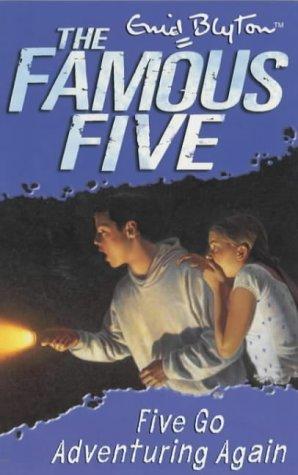 The Famous Five Books are:
1. Five on a Treasure Island
2. Five Go Adventuring Again
3. Five Run Away Together
4. Five Go to Smuggler's Top
5. Five Go Off in a Caravan
6. Five On Kirrin Island Again
7. Five Go Off to Camp
8. Five Get Into Trouble
9. Five Fall Into Adventure
10. Five On a Hike Together
11. Five Have a Wonderful Time
12. Five Go Down to the Sea
13. Five Go to Mystery Moor
14. Five Have Plenty of Fun
15. Five On a Secret Trail
16. Five Go to Billycock Hill
17. Five Get Into a Fix
18. Five On Finniston Farm
19. Five Go to Demon's Rocks
20. Five Have a Mystery to Solve
21. Five are Together Again
Ad blocker interference detected!
Wikia is a free-to-use site that makes money from advertising. We have a modified experience for viewers using ad blockers

Wikia is not accessible if you've made further modifications. Remove the custom ad blocker rule(s) and the page will load as expected.